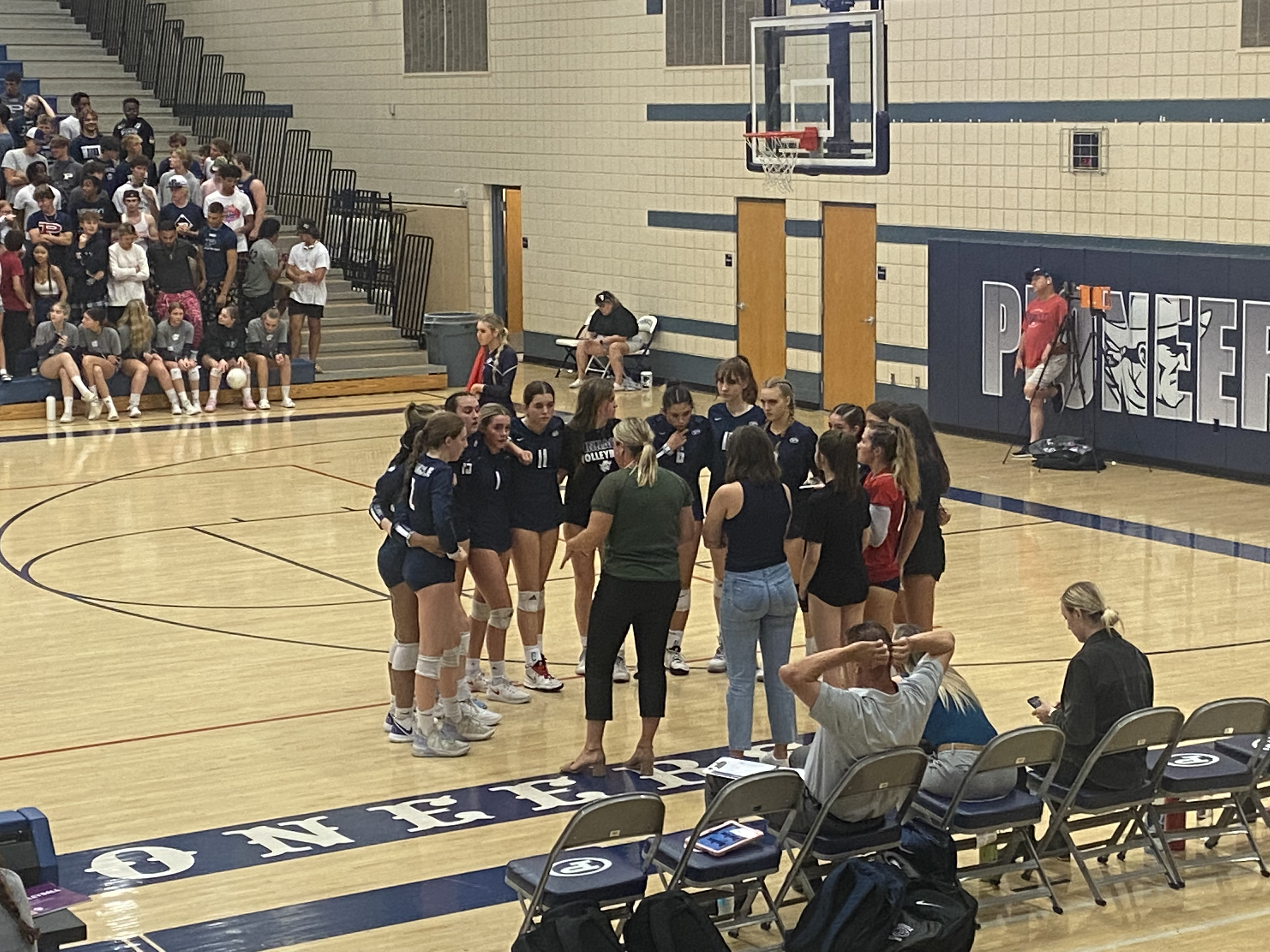 Pinnacle huddles up during a timeout
Ryan Sykora is an ASU Cronkite School of Journalism student assigned to cover Pinnacle High School for AZPreps365.com
Pinnacle High School always expects to taste more victory than defeat, no matter what sport.
Last year, girls' volleyball wasn't always one of the teams that met this expectation.
PHS won three games in 2021, a tally they had already met heading into their seventh game of the year against a highly touted Sunnyslope High School.
It didn't go well for the Pioneers (3-4) as Sunnyslope (3-3) swept them in three sets (25-20, 25-19, 25-21) Wednesday night.
"I think we struggle mentally at the beginning of each set," head coach Allissa Morgan said. "Had we not done that then it would be a different turnout for us."
Pinnacle found themselves down constantly throughout each of the three sets against during the region opener. An 11-3 deficit to start the first set was certainly the most noticeable of margins.
"I mean, those are obviously mental runs," Morgan said. "So we just take a break, take a timeout, let the girls reset their brains, remind them how talented they are and to take a deep breath and just play calm, relaxed volleyball. That's kind of what I talked to them about."
Even with the calming timeouts, there was another 11-3 run in the second set, putting Sunnyslope up 15-9 after Pinnacle started strong.
In both frames, the Pioneers were able to recover mentally and play tough, come from behind to make the games close before losing set one, 25-20, and set two, 25-19.
"Our goal is just to compete with top-level teams," Morgan said. "They are a top-level team. Obviously, you want to win, but I'm just happy with our team that we're able to kind of come back and get a higher score towards the end of the match."
In defeat, Pinnacle showed grit and toughness. The Pioneers never let the potential region favorite get too far out in front and ended every set well.
Sunnyslope came into the game with a losing record, but their three losses are all against talented East Valley programs: Gilbert (7-0), Hamilton (9-0) and Perry (8-1).
"It helps us to compete against good teams," Morgan said when asked about opening region play against Sunnyslope. "Just to get that exposure with big arms and really good deep inside that just makes us better overall."
Pinnacle closed with its best set during frame number three, falling 25-21. The Pioneers battled in and out of long rally points in order to keep the night going. Sunnyslope had too much in the end as Pinnacle faltered at the finish of the set to allow the Vikings to take the straight sweep.
Next up for Pinnacle is a home game against Sandra Day O'Connor (5-1) Thursday night.