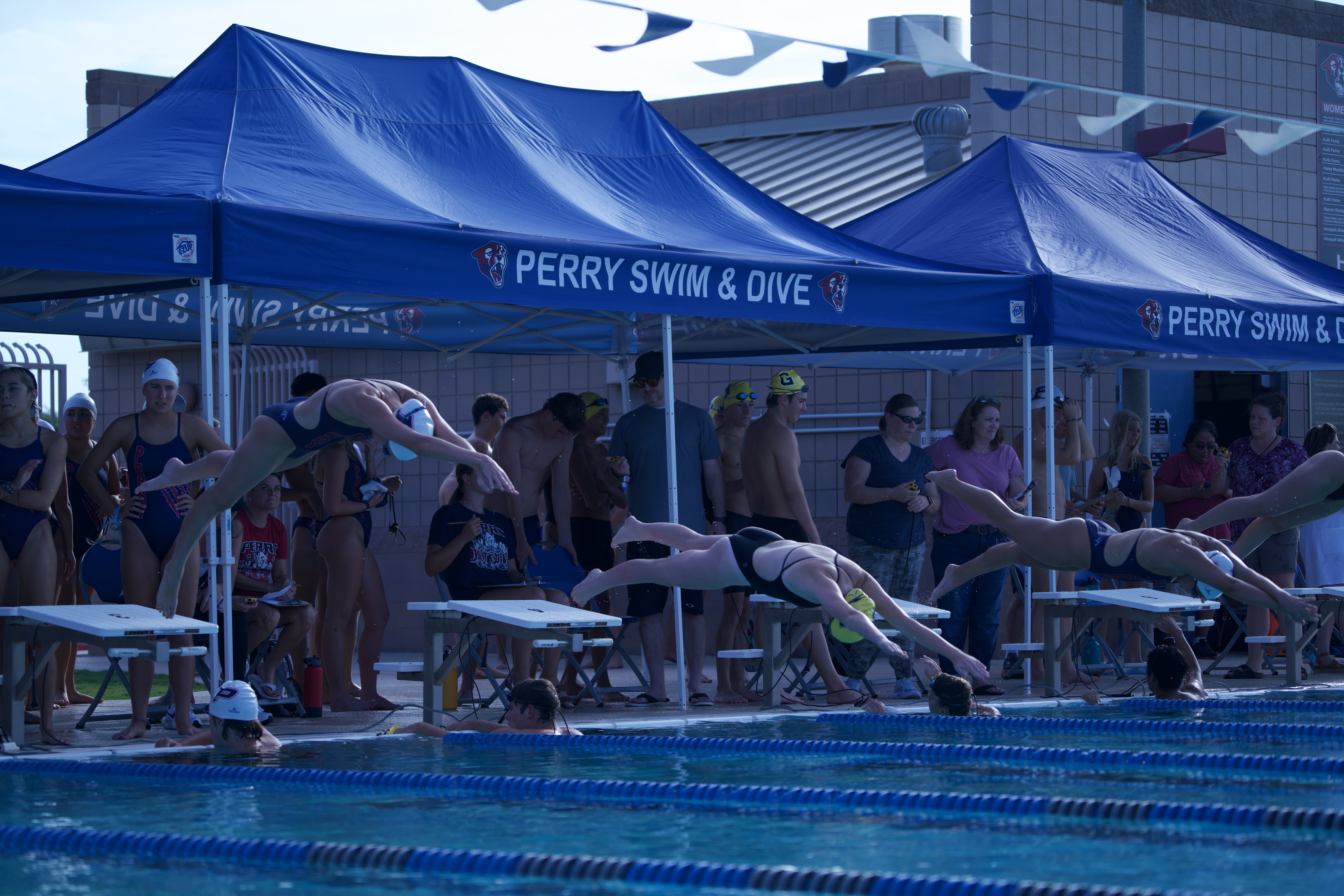 Perry High School senior Hannah Ernst and junior Haley Mueller compete in the 200-individual medley. Copyright Ethan Kaplan 2022.
Perry beat Gilbert in their dual meet, 202-164 (68-112 boys, 134-52 girls), on Thursday.
The undefeated Pumas' home victory added to their hot start (4-0) this season and momentum entering Saturday's Brophy/Xavier Swimming & Diving Invitational, in which Perry will send 26 of its team members. 
Junior Haley Mueller won both individual races in the 200 individual medley and 100 backstroke. Mueller was the Pumas' leadoff leg of the 200  relay backstroke, and their 400 freestyle relay's anchor leg. 
"Haley had very good swims today, she looked very very strong," Perry assistant coach Jaimee Lujan said about Mueller's performance.
Perry senior Hannah Ernst placed second in the 200 and 100 butterfly, individual races, swam the butterfly leg in the 200 relay and led off the 400 freestyle. 
Mueller and Ernst led Perry to its first-place finish in the 200 relay with a time of 1:56.52. In the 400 freestyle relay, they both finished off the meet strongly at 3:49.97.
Perry boys senior Dylan Sategna blitzed to a second-place finish (24.57 seconds) in the 50 freestyle.
The Puma girls swept the Tigers in diving.
Senior Sharlotta Mozes placed first overall in girls one-meter diving. 
When asked about how she felt from not diving the week prior, Mozes said, "Slightly more on edge than normal. However, having teammates to cheer me on and having my previous experiences, I felt that it would end up being fine."
Mozes broke the school record in 6-dive and 11-dive lists prior to Thursday's meet, which boosted her confidence.
She was behind state champions in her previous three seasons.
"Having been one of the underdogs my sophomore year, it's a good feeling to see that work finally paying off," Mozes said.
Junior Khloe Anderson and sophomore Samantha Hill competed alongside Mozes. 
Anderson placed third with a combined dive score of 198.00. Her teammate Hill placed second with a combined dive score of 226.05. 
The only male diver on Perry's team, junior Nathan Anderson, placed first improving his score from a 74.63 last week to 93.23. 
"This was Nate's first time finishing in first place and he competed a brand new dive he just learned," Perry head dive coach Keddi Kerby said about his back twister.