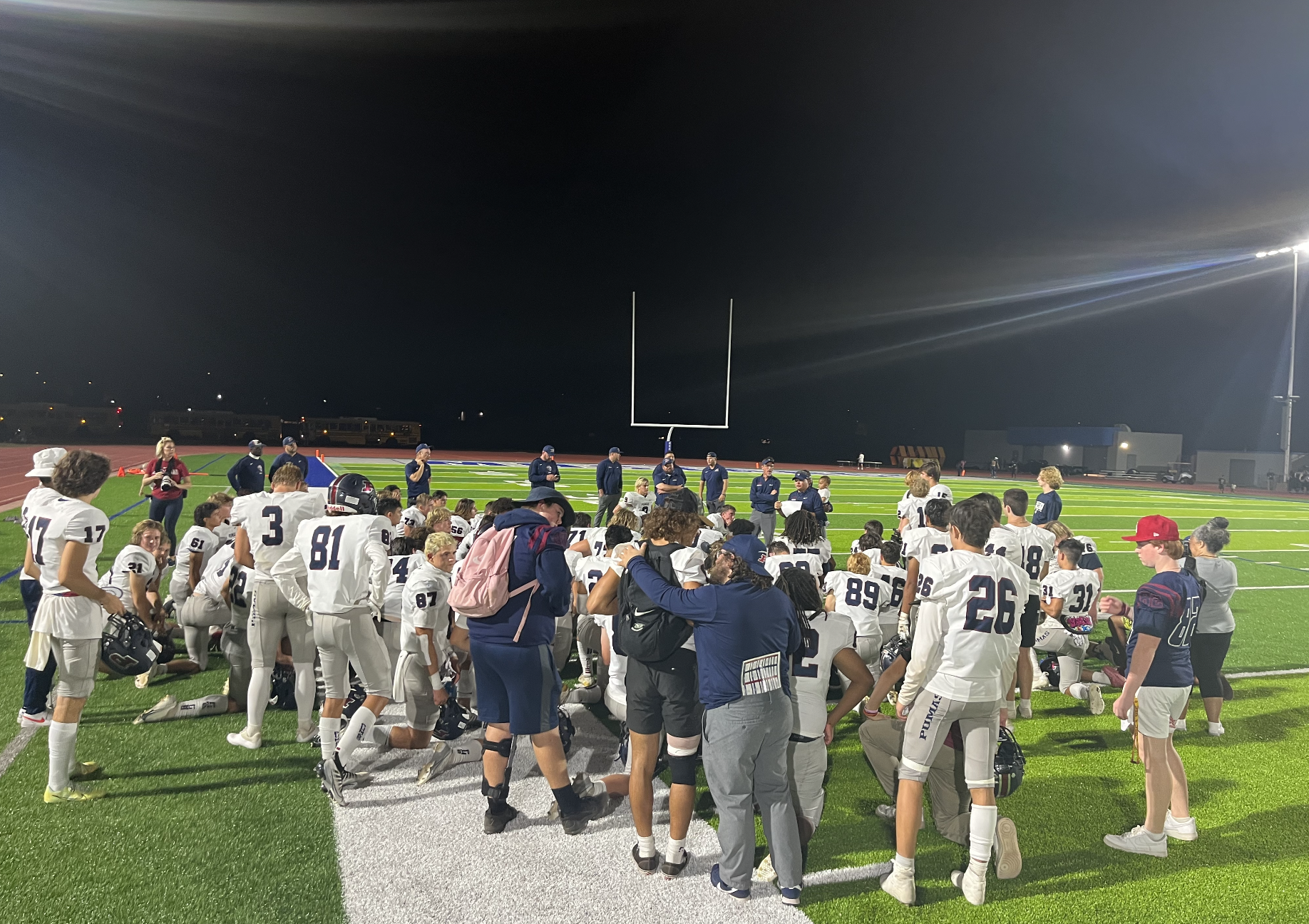 Coach Ortiz praises the team following its largest victory of the season.
Perry (3-1) bounced back from their home-opening loss to Corona del Sol on Sept. 13 by routing Dobson, 53-13, on Thursday.
The victory was the Pumas' third road game among their four thus far this season.
Perry staged its most explosive offensive and most dominant defensive performance. The  was able to control the game from the beginning and showed no mercy on Dobson as the Pumas improved to 3-1 on the year.
Following their first loss, Perry coach Joe Ortiz was eager to get this team to regroup and practice. In an unusual Thursday tilt, the Pumas were unfazed by the lost practice day in Mesa, setting the tone of domination early and often.
Ortiz puts an emphasis on these fast starts. 
"We wanted to start fast because we started last week so slow," Ortiz said. "We needed to start fast and finish well."
From the kickoff, Perry's defense capitalized following the Mustang's quick three-and-out, which was capped off by a pass deflection by senior defensive end Aiden Herring on third-and-short. That short series by Dobson enabled Perry's field position for quarterback Jack Amer (five touchdowns) to score quickly. Amer held the ball on a QB option keeper he ran nearly 30 yards to the house to open up the scoring, followed by a failed two-point conversion attempt.
Inspired by its offensive momentum, Perry senior Eugene Osei Mensah caused a forced fumble by ripping the ball away from a Dobson receiver, then the Pumas recovered the ball inside the Mustangs' 20. Then Amer threw on a short touchdown pass,his second of the game, to senior Jordan Kimling, which extended their lead, 13-0.
With the passing game having its first breakout of the season, Amer credited the running backs and offensive line for Perry's stellar rushing attack.
"Earlier in the season, we haven't been as successful as we wanted in passing, Amer said. "We've had to rely on my feet and other running backs' feet and get a good push from the line. Being able to have multiple runners while figuring out the passing game has been very helpful."
After nearly a full quarter before their next end zone series, Perry's defense continued to hold the line with physicality and force. Ortiz had nothing but praise for a unit that shut the door right when the doorbell rang on Thursday night.
"Our physicality and discipline is what did it,' Ortiz said. "We adjusted in practice and it paid off well this week."
After Dobson made its first scoring play late in the first half, Perry's scored twice, then junior tailback Don Tinsley scored a TD. Perry's backup QB Ryder Brown ran one in to answer Dobson's lone score of the half with just one minute remaining in the second quarter.
Perry had a massive 34-6 lead entering halftime, and its defense continued to lock down the Dobson offense.
The Pumas will have a bye next week before they host Mesquite on September 30th.