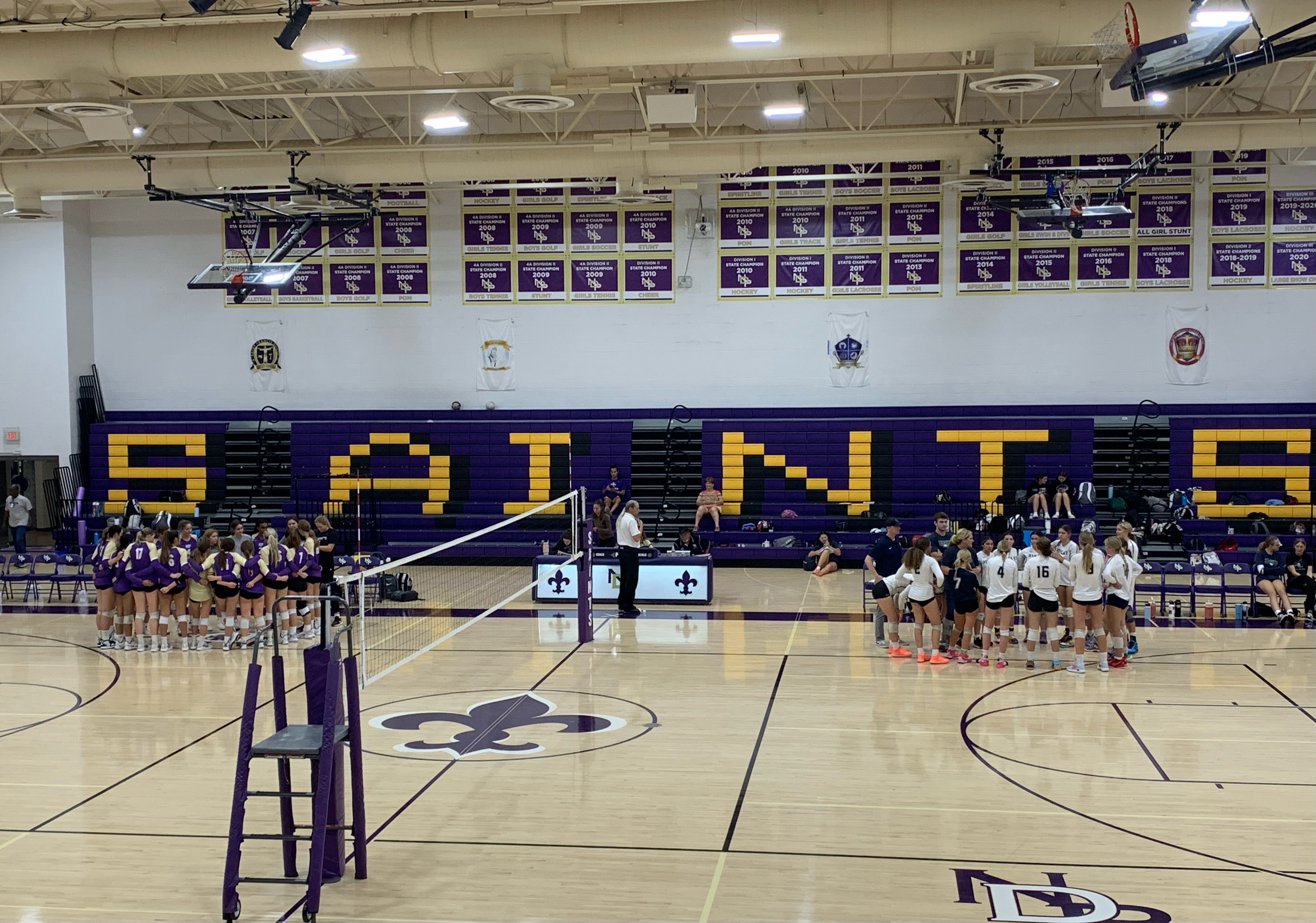 Notre Dame Prep (left) and Higley (right) huddle between sets (Alex Wakefield photo/AZPreps365.com)
Alex Wakefield is an ASU Cronkite School of Journalism student assigned to cover Higley for AZPreps365.com
The Higley girls volleyball team dropped all three sets, 25-20, 25-17, 25-20, in front of a raucous Notre Dame Prep crowd in North Scottsdale Thursday night.
Senior captain Talli Copple paced Higley with eight kills and three aces. Junior setters Addison Norton and Danelle Acosta combined for 18 assists.
Higley struggled out of the gate, starting the first two sets down 4-0 and 3-0, respectively, and failed to challenge Notre Dame Prep down the stretch of those sets.
Higley coach Tyler Kraemer wanted to see more energy from his team early on.
"I think we coasted a little bit in the first two sets," Kraemer said. "We expected the other team to make mistakes or make it easy for us. They didn't, and we weren't prepared mentally for some reason."
Notre Dame Prep's robust offensive attack created problems for Higley. Senior Lexi Yoza asserted control over the match from the start, ultimately recording 30 assists. While 15 of those assists were to junior outside hitter Evan Hendrix, the reigning 4A division Offensive Player of the Year, the other half were distributed throughout Notre Dame Prep's offensive personnel.
Notre Dame Prep coach Holly McLean was pleased with Yoza's ball movement.
"That's kind of [Yoza's] bread and butter, to be able to move the ball around," McLean said. "That's how she runs our offense, and I think it's good for team chemistry to get everybody involved to build everyone's confidence."
Yoza's favorite target, however, is Hendrix, and the chemistry between those two was evident at the game's biggest moments.
"They've been playing together for a long time," McLean said. "They're two experienced and seasoned players."
After a difficult start, the Knights showed some real fight in the third set.
After starting the set 5-5, the two teams traded runs, starting with a 5-0 run that gave the Knights their largest lead of the match. Notre Dame Prep countered with a 7-2 run of their own, tying the game at 12-12, and from there the match had its most competitive stretch: nine lead changes and eight ties, with neither team leading by more than a single point.
After tying the game at 20 with a Copple kill assisted by senior libero Peyton Gawronski, Higley failed to score another point.
Ultimately, Notre Dame Prep finished the match as the more disciplined team.
To close the match the Saints leaned on their most effective partnership – Yoza's setting and Hendrix's hitting, and the pair connected twice in the match's final five points. You could sense frustration from Higley's finishing group as Notre Dame Prep pulled away, and Copple acknowledged that emotions played a part in her team's performance.
"I think we really need to come together a lot," Copple said. "We need more good attitudes from our teammates and we need to keep staying strong."
Kraemer, however, thought the way his team handled the final set was a positive indicator leading into the second half of the season.
"They didn't quit. They didn't give up," Kraemer said. "Even in the last game after we'd gotten our butts kicked for a little while. We made it a game and we were right there in set three. We fought the whole time, and at the end, I'm OK with that"
Higley (9-4) will play Scottsdale Prep (12-7) to begin Friday's Epic Tourneys Volleyball Invitational tournament at Arizona State University.
Notre Dame Prep (13-3) will host Cactus Shadows (7-1) at 6 p.m. Monday.