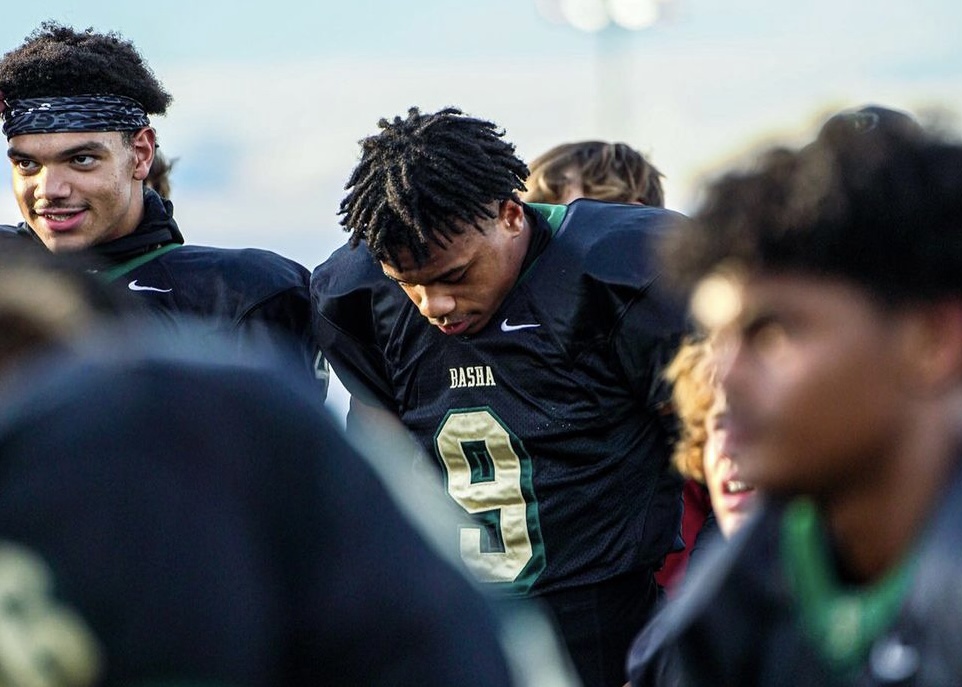 Photo Credit: Brendan Belfield
Michael Yero is an ASU Cronkite School of Journalism student assigned to cover Basha High School for AZPreps365.com.
Things have gone as planned for head coach Chris McDonald and the Basha Bears so far. 
Sitting at 3-0 for the fourth time in five seasons, they'll look to continue their success this Friday against Mountain View in their homecoming game.
"Mountain View was a playoff team last year," McDonald said. "We played them last year in the Regional Championship. That's obviously a really important game for us since it's homecoming and for our seniors."
Although McDonald has made it a priority not to overlook any opponent, his coaches and players understand the real challenge will come in the second half of their schedule.
The Bears are set to have a busy October, taking on three of the best teams in Arizona: Liberty, Hamilton and Chandler.
Those three teams have a combined record of 8-1 and are nationally ranked in the top 100, according to MaxPreps.
Difficult on paper, McDonald believes his team will be ready for the task. He's confident that taking on early opponents like Los Alamitos (CA.) and Salpointe Catholic will have them ready to handle business in the coming weeks.
"We hope that it prepares us for when we face the second half of our schedule," he said. "Taking on Liberty, Hamilton and Chandler is a tough stretch for anybody, regardless of your ranking and whatnot. Those are three quality opponents in a row, on a national scale.
"We believe traveling to Los Alamitos and having that experience as a team will benefit us."
Finding its identity is something Basha has taken pride in. Inside the locker room is a poster with the words "Intellectual Brutality," a phrase they take with them on the field. 
"We definitely have some of that," McDonald said. "We're fast, physical and want to outsmart you, want to out physical you. That's kind of our mold. That's what we want to be and I think we've done that so far. I don't think Los Al was ready for how physical we were."
That three-game stretch motivates the Bears on a weekly basis. Senior cornerback Cole Martin, who transferred from Hamilton to Basha in 2021, has all three games in October listed on his calendar.
"Going to be able to go back and play Hamilton, I love that game," Martin said. "I have a lot of brothers over there. And also playing Chandler, going up against Amari Washington, who I'm going to Oregon with. Going against Liberty as well, that's going to be a fun game. I can't wait."
Basha has shown flashes of greatness early on, from taking down a top-50 opponent in Los Alamitos to outscoring competitors 142-42 in three games. Junior quarterback Demond Williams has already thrown for 597 yards and seven touchdowns as he continues to have his offense rolling heading into this week's matchup against the Toros.
Williams has made it a priority to keep his team mentally focused on a game-by-game basis. That includes praising how this team wants to be defined.
"We're really just coming out and trying to give it our all every game," he said. "We hope to keep that going."