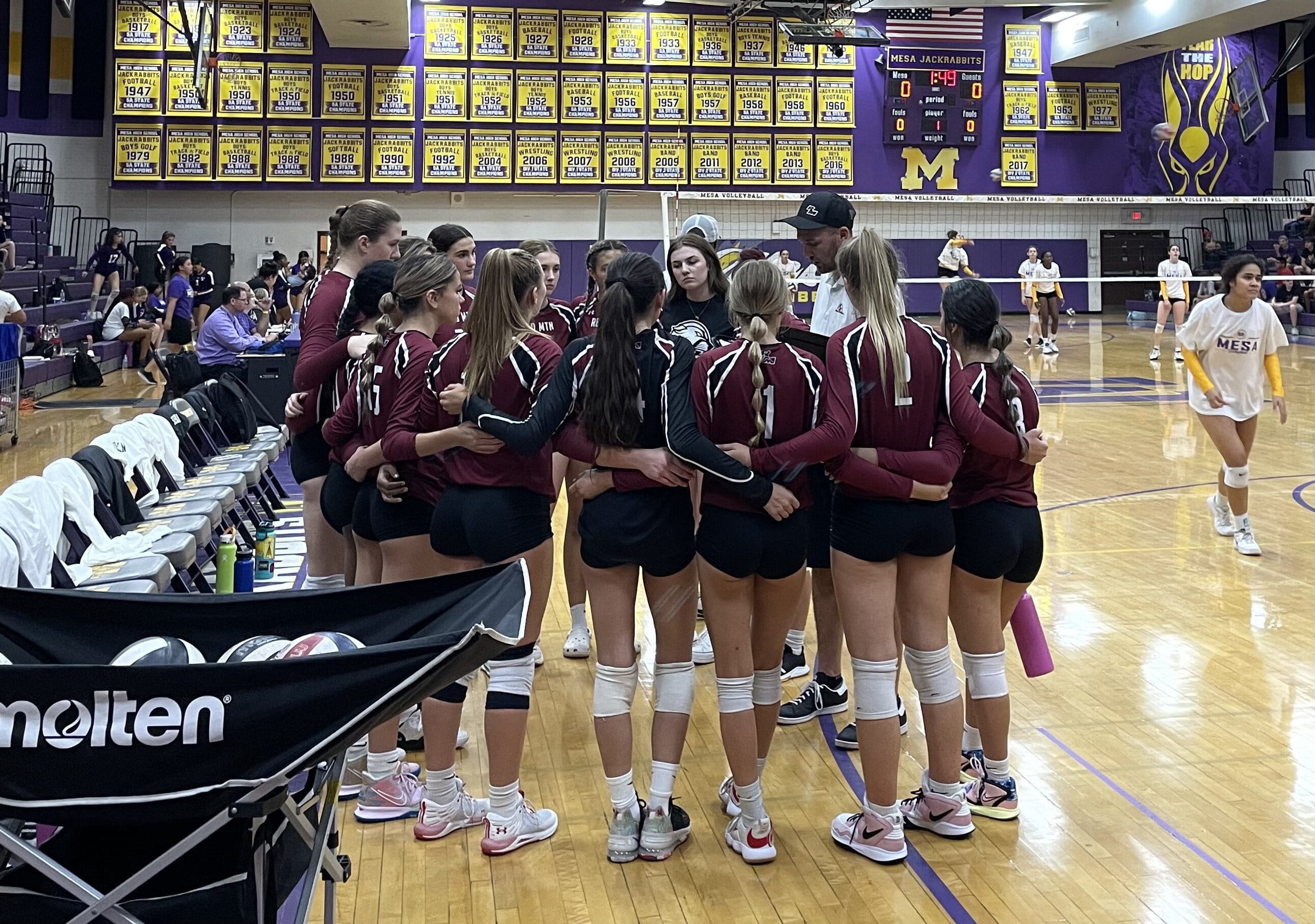 Red Mountain in their pregame huddle going over the game plan for their game against Mesa on Wednesday. (Adrian Carbajal photo/ AZPreps365)
Adrian Carbajal is an ASU Cronkite School of Journalism student assigned to cover Red Mountain for AZPreps365.com
Red Mountain's first section game of the season came on the road Wednesday night against the Mesa Jackrabbits. Despite not having home court advantage, the Mountain Lions bested their section rivals in four sets (26-24, 25-19, 18-25, 25-18) behind sophomore Sereniti Johnson's stellar performance.
"She's the youngest one on our team, " Coach Cody Sunderhaus said. "But she never feels any of that pressure and she really stepped up big tonight." 
Johnson finished with 15 kills, eight digs, two aces and one block.
Johnson was electric from the jump as she started with three kills early in the first set and closed the set with a crucial block and dig to help break a 24-24 tie and win the first set for the Lions, 26-24. 
"I was just trying to help my team pick up our energy," Johnson said. "My teammates always set me up so perfectly, which just helps me do good things on the court." 
In the second set Johnson got a lot of help from one of those teammates in particular, senior captain Raquel Gonzalez. 
Gonzalez opened the second set with eight straight serves, including two consecutive aces which jump-started the Lions' offense after the break and put them ahead 6-0. 
"We knew we had to serve tough, and that's what I went back there and did," Gonzalez said. "I knew that my girls were going to have my back when the ball came back over the net and that made it easier for me to do what I do." 
Gonzalez finished the game with 20 digs and four aces and showed her poise throughout the match. 
"She's our leader and we go to battle with her every game," Sunderhaus said. "She's die-hard and that mentality spreads to the rest of the girls. We can't be doing what we're doing without her." 
From that point on, the Lions didn't look back as they ended up winning the second set 25-19 despite a push late in the set from the Jackrabbits.
The third set, however, was all Jackrabbits, as its two all-region players helped them jump out to an 8-2 lead. 
Three kills and a block from senior captain Rylynn Dixon and three kills and an ace from sophomore Makena Rumple grew the Jackrabbits' lead to as large as nine points en route to a 25-18 win. 
"We've got strong middles," Jackrabbits coach Venese Hiapo said. "It's just a matter of gaining more chemistry with our younger girls because we've pulled a lot up from JV. We still have a lot to learn."
That inexperience showed in the fourth set as Johnson and Gonzalez dominated.
Johnson had five kills and Gonzalez had momentum shifting digs and an ace to stretch their lead to 15-10. 
Three of Johnson's kills late in the set pushed the Lions' lead up to 24-14 and despite another late push by the Jackrabbits the Mountain Lions prevailed and won the set 25-18. 
Despite the win, Sunderhaus was focused on the task ahead of them.
"This point in our schedule is starting to get tougher than it was earlier in the season," Sunderhaus said.  "We can't play not to lose games and I feel like that's what we did in the third set. We've got to keep that focus and drive and realize that every point is important and every game is important."