Three lawyers representing former President Donald Trump were spotted leaving a federal courthouse in Washington, D.C. on Thursday and were reportedly there to represent him in a case related to January 6, 2021.
NBC News Associate Producer Daniel Barnes shared a photo of the attorneys on Twitter, writing: "Spotted this afternoon at the DC federal courthouse: Trump lawyers Evan Corcoran, John Rowley and Timothy Parlatore. Also in the building was prosecutor Thomas Windom."
Windom, an assistant U.S. attorney at the U.S. Attorney's Office in Washington, D.C., has been involved in investigating efforts to overturn the results of the 2020 presidential election in relation to January 6, 2021.
In July, Windom obtained a warrant to search the contents of attorney John Eastman's phone. Eastman is alleged to have played a major role in a plan to have GOP-led state legislatures appoint alternative slates of pro-Trump electors. Those electors could then have been used to overturn the former president's election defeat.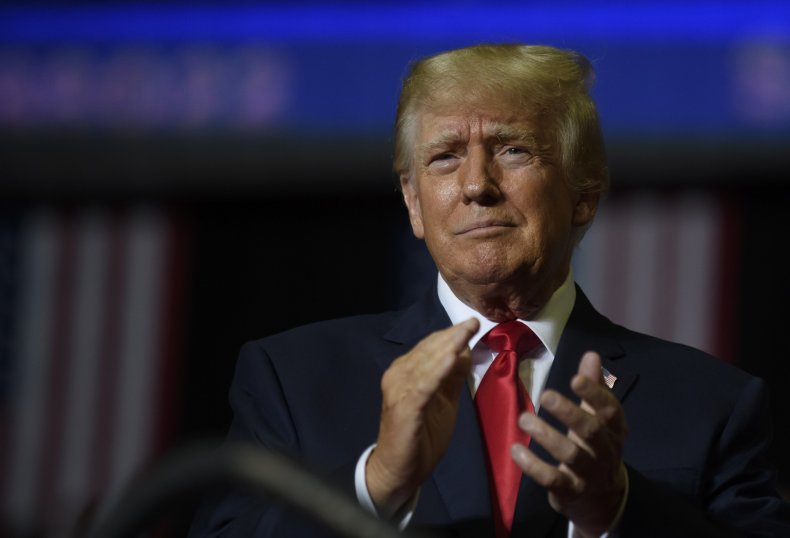 "It's unclear why all were in attendance—Corcoran, Rowley and Parlatore did not respond to questions," Barnes wrote.
Jacqueline Alemany of The Washington Post retweeted Barnes' photo and said of the three attorneys: "They were present in capacity representing Trump, RE the Jan. 6 investigation, per person familiar."
Newsweek has asked former President Trump's office for comment.
The photo of Trump's lawyers leaving the D.C. courthouse sparked some speculation about a potential indictment of the former president.
Trump has not been charged with any crime.
Responding to Barnes, Twitter user @supernovagirlie wrote: "Discussing a possible Trump indictment? *Fingers crossed*"
Another user, Lyla Lane, responded to the photo by saying that she would put "my money on indictments."
However, talk about potential indictments of the former president is highly speculative and he is not facing criminal charges at this time. There has long been speculation from some quarters that Trump could be subject to prosecution.
Trump is facing a slew of legal cases, including an ongoing federal investigation into the handling of White House documents stored at this Mar-a-Lago residence in Florida.
A panel of three judges from the U.S. Court of Appeals for the 11th Circuit ruled on Wednesday that the FBI can access around 100 documents bearing classification markings seized in an August 8 raid, putting on hold a decision by U.S. District Judge Aileen Cannon that prevented the FBI from reviewing the documents.
Also on Wednesday, New York Attorney General Letitia James announced a $250 million suit against the former president, the Trump Organization and his children Donald Trump Jr., Eric Trump and Ivanka Trump, alleging they inflated Trump's net worth in order to "unjustly enrich himself and cheat the system."
Though James is bringing a civil lawsuit, she has also said she will be making a criminal referral to federal prosecutors and the IRS.