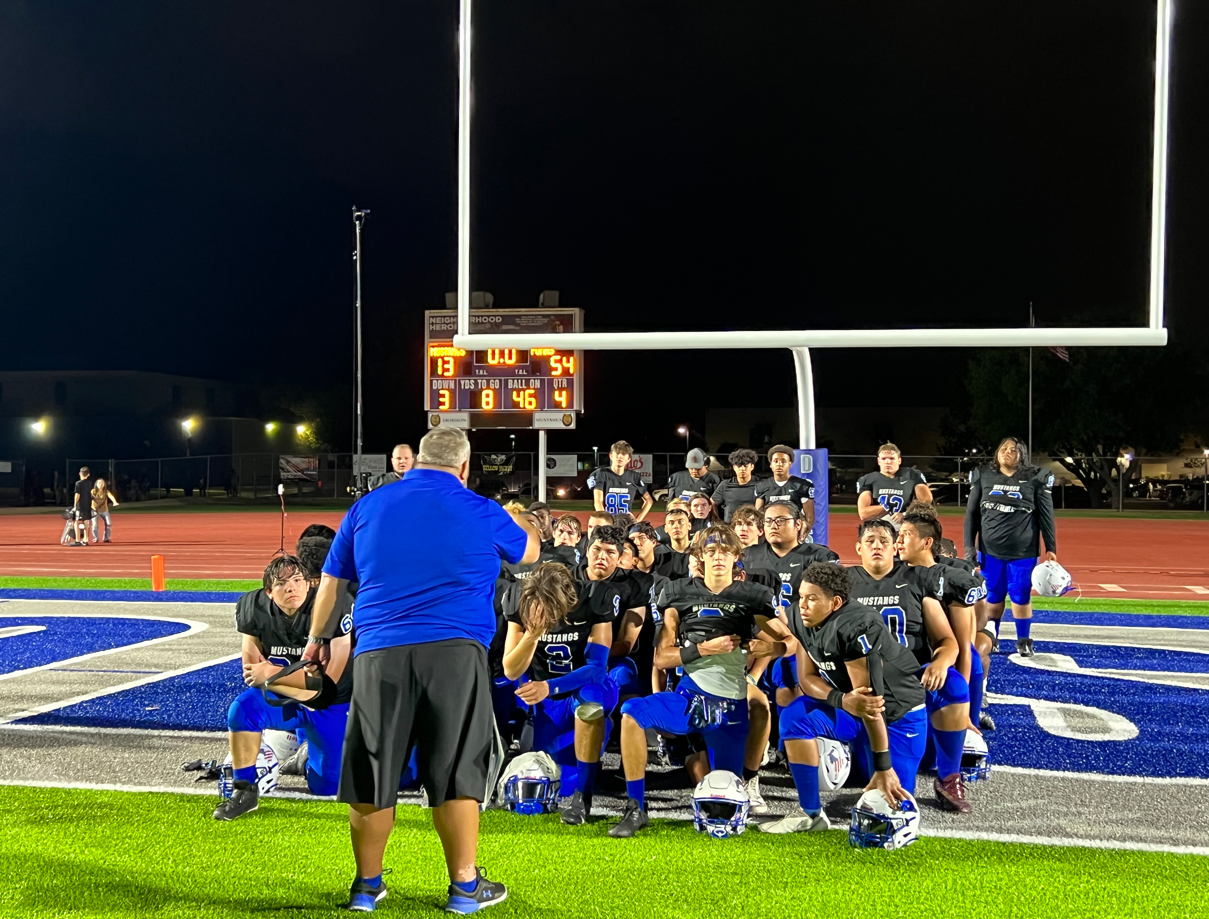 Dobson huddles up after a tough loss to Perry Thursday night in Mesa. (Justin de Haas photo/AZPreps365)
Justin de Haas is an ASU Cronkite School of Journalism student assigned to cover Dobson High School for AZPreps365.com
The Dobson Mustangs could not keep up with the Perry Pumas Thursday night in Mesa. Perry came away with a 53-13 win, dropping Dobson to 0-4 on the season.
Perry had a successful opening drive. Senior quarterback Jack Amer rushed 38 yards for the touchdown. The Pumas failed to convert on a two-point conversion and lead 6-0.
On Dobson's second drive, senior quarterback Jordan Legg dropped back to pass and threw his first and only interception of the game. This turnover was costly. It eventually resulted in the Pumas scoring a touchdown on their second drive. Amer threw a 10-yard pass to senior wide receiver Jordan Kimling to expand the lead to 13-0.
It looked like Perry was going to put the nail in the coffin, but Amer threw an interception in the end zone as senior Mustangs cornerback Blake Cameron picked it off. Dobson was unable to take advantage of the turnover and punted the ball. Perry avenged its interception by scoring on a 19-yard rushing touchdown by junior running back Don Tinsley to increase its lead to 27-0.
Dobson seemed to generate some momentum, scoring on its sixth drive of the game. Legg threw a 25-yard touchdown pass to senior wide receiver Brody Shaugnessy to cut the deficit to 27-6. Dobson failed to score on its two-point conversion and kept its points total at six.
Amer responded to Dobson's score by throwing a 3-yard touchdown pass for his third of the game. That touchdown put Perry ahead, 34-6, which was also the halftime score.
Dobson drove down the field and got the ball to the 1-yard line. Legg ran the ball in to score his second touchdown and inch the score to 47-13.
With the backups now in for both teams, Perry scored one more time as junior running back Nate Duerksen ran it in for the touchdown and finalized the score at 54-13.
Dobson head coach Bill Godsil said a positive of the game was that the Mustangs "can fight with a big, bruising team.".
 
"The score was 54-13, but we hung with them for a while and when we started getting banged up, that's when they started pulling away from us," Godsil said. "We did some good things offensively and had some young guys step up on the offensive line and they held their own."
Dobson was without senior running back Jashawn Kinney, who suffered an AC Joint separation in Dobson's last game against Betty H. Fairfax.
"He's one dog and he's a big loss to our program," Legg said of Kinney. "I'm excited to get him back, but Allen [Wallace] filled some big shoes today, but [Kinney is] a big miss for sure. We definitely would need him a lot on defense and on offense."
Junior running back Allen Wallace usually splits the workload with Kinney, so he received a lot more work without him. Wallace was the bell cow of the offense, carrying the ball 18 times for 57 yards.
Dobson (0-4) will be on the road next, traveling to Skyline High School in Mesa Thursday, September 29, for a 7 p.m. matchup.