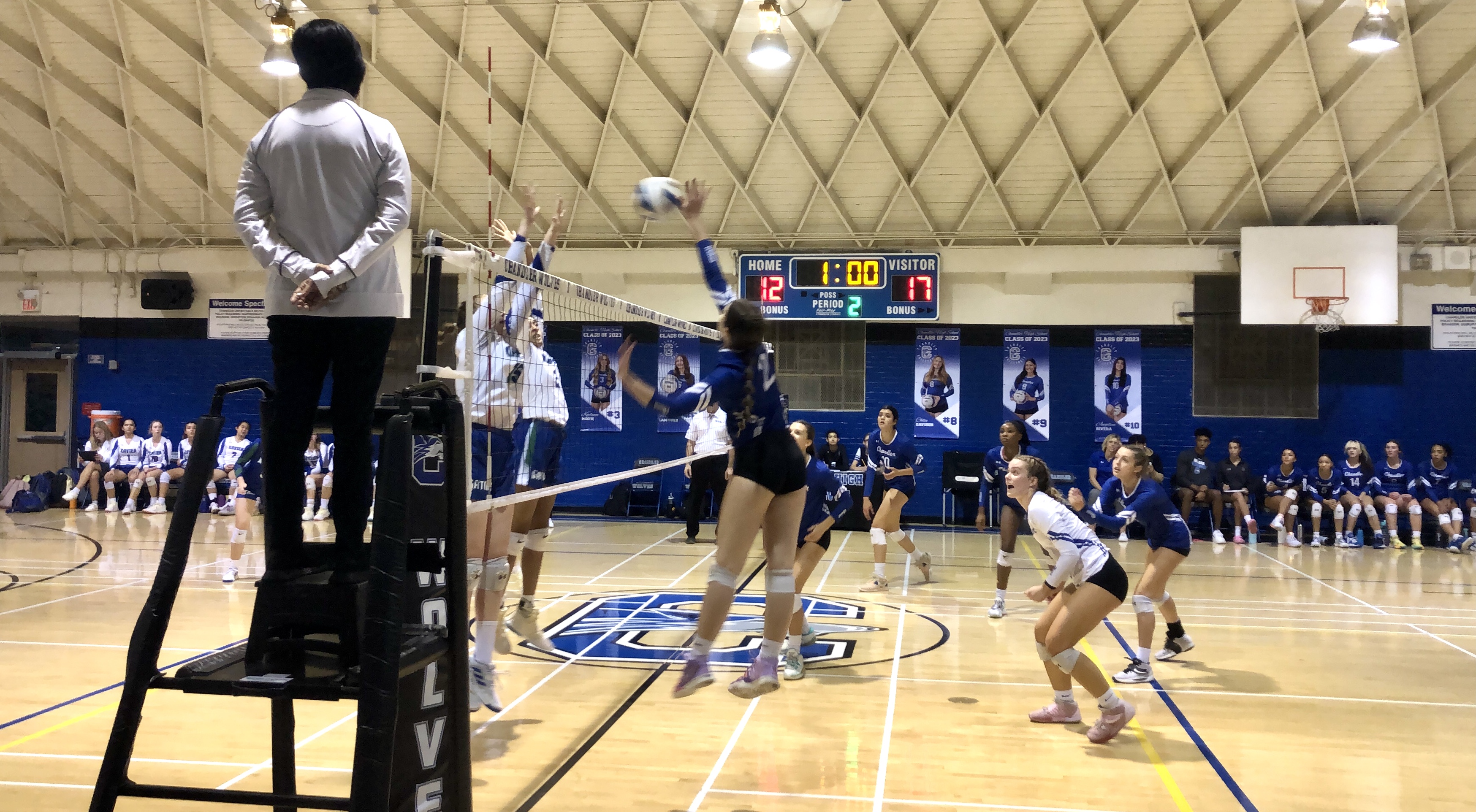 Chandler High School senior Josephine Mayer attempts a kill against Xavier Prep in Chandler on Thursday. (Jacob Luthi photo/AZPreps365)
Jacob Luthi is an ASU Cronkite School of Journalism student assigned to cover Chandler High School for AZPreps365.com
The Chandler High School girls volleyball team lost to Xavier Prep on Thursday night at home.
Despite it being their second consecutive three-set loss, losing 19-25, 20-25, 24-26, Wolves Coach Nathan Saunders was proud of the improvement he saw from his team.
"Our girls fought and they competed well," Saunders said. "Our defense, I thought, did a really good job of picking up balls out of the back row." 
Nineteen of Chandler's 89 digs for the match came from senior Kady Moore.
The first set remained close until a 7-0 run propelled the Gators to a 20-12 lead. The Wolves, however, didn't give up and came within four points of tying at 19-23. After a timeout was called by the Gators, Xavier went on to win the next two points and take the first set. 
Set two played out similarly and remained close.The Wolves' offense in the second was ignited by junior Marley Avechuco's attack. Five of Avechuco's 11 kills came in the second set, and she had her team to thank for that.
"The teamwork was really good today," Avechuco said. "Our passes were a little iffy, but our sets were really good."
The Gators, however, went on to take the second set, 25-20. 
Thursday night's match saw a rebound performance by Wolves senior Angelica Rivera. Held to zero kills and seven digs in Wednesday night's showdown against Hamilton, Rivera responded strongly on Thursday with 13 kills and 18 digs. 
"Yesterday I blocked everyone out," Rivera said. "Today I decided I was going to change that. It was all mindset. I let the mistakes go past me and I just had a next-ball mindset tonight."
The third set was the most contentious. Rivera's six kills in the set helped propel her team to three set points. 
Chandler was ready to send the match into a fourth set, leading the Gators 24-21. A timeout by Xavier Coach Lamar-Renee Bryant proved crucial as her team went on a 5-0 run to secure the third set and the match. 
"I told them to relax," Bryant said. "We put ourselves in a really bad situation by taking things for granted. We needed to D-up and make better decisions." 
For Xavier, Thursday's win marked their third in three nights. 
"This was definitely a challenging week for us," Bryant said. "I am really happy we came out with a win. It was a total team effort." 
With a week gap until their next game, Saunders knows what improvements have to be made to get the Wolves back in the win column. 
"It all starts with serve and pass," Saunders said. "We care so much about our first contact in the game of volleyball. If you're passing it behind the 10 foot line versus a foot in front of the 10 foot line, it makes a big difference what you can run offensively." 
Chandler High School (7-4) will travel to face Basha High School (4-5) on Thursday at 6 p.m. 
Xavier Prep (6-3) will host Perry High School (7-1) on Tuesday at 6 p.m.