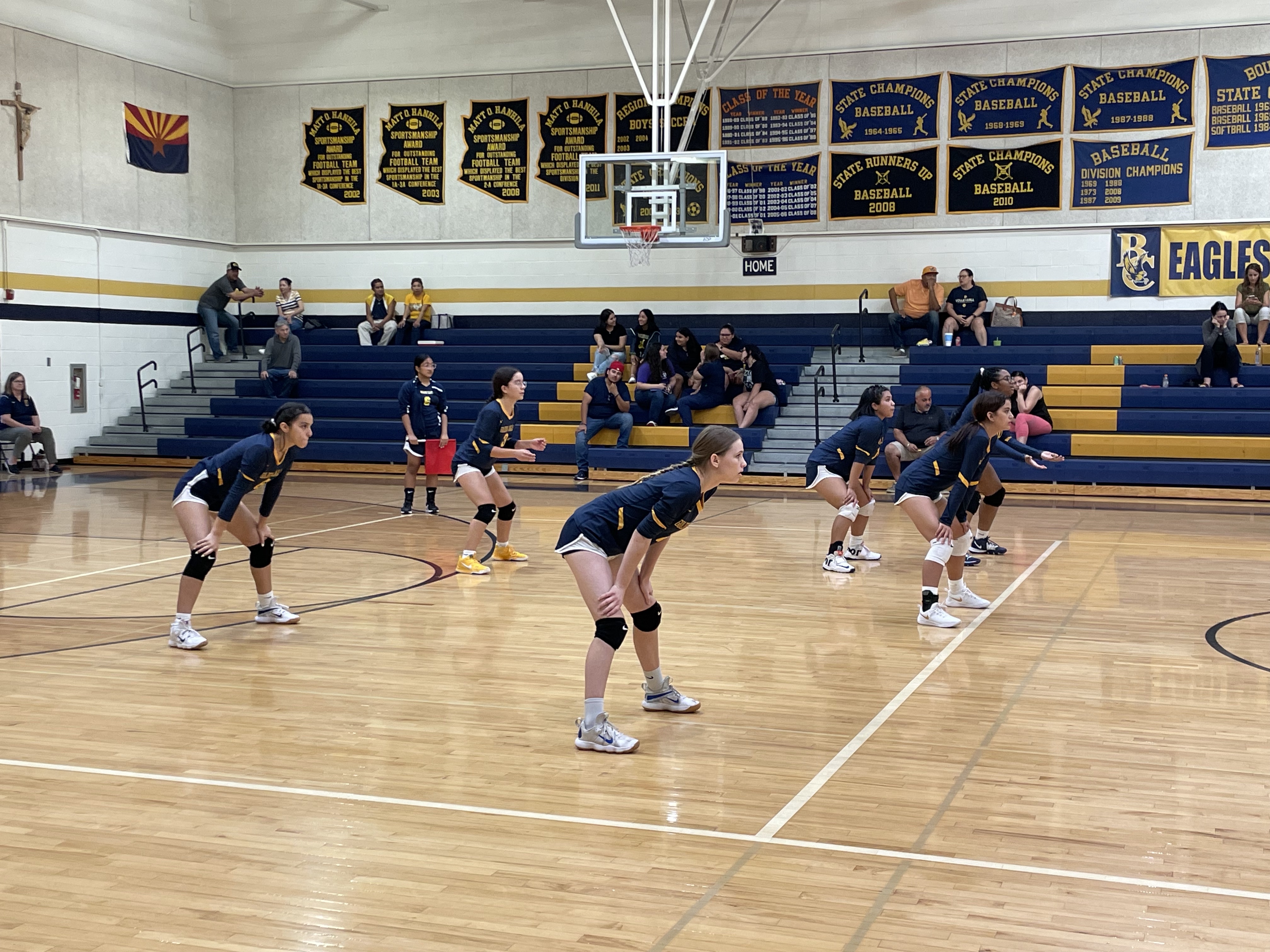 The Bourgade Catholic volleyball team prepare to return a serve during a match against Camp Verde on Thursday. (Janaé Bradford photo/AZPreps365)
Jenae Bradford is an ASU Cronkite School of Journalism student assigned to cover Bourgade Catholic for AZPreps 365.
Camp Verde held Bourgade Catholic to 25 total points at home in a three-set sweep (25-8, 25-7, 25-10) at Thursday night's volleyball game. 
The Golden Bears (1-7, 1-6) struggled returning serves, allowing 20 aces in the first two sets alone. They lost their largest lead of the match in the first set when the Cowboys (6-2, 3-2) went on a 12-0 run.
Camp Verde junior Marisol Salas-Zorrilla finished with five aces in that run, and senior setter Reagen Warren added four more aces to the set. Six different players delivered a total of eight kills to help keep the Cowboys' runs alive.
"These girls have really great chemistry." Camp Verde coach Britney Armstrong said. "We've been fortunate because they've been playing together for the last three years with club and school. They really love each other and tonight it was evident."
The Cowboys finished that first set with a 6-0 run. Warren continued to dominate with four aces to seal the win. 
The energy translated immediately into the second set when Warren kicked it off with five consecutive aces in another 6-0 run.
Bourgade fought hard to close in the lead in a quick third set holding three runs to four points each. Both teams made serving and attack errors keeping the score close.
"We changed our whole lineup." Golden Bears coach Raeleen Naki-Bajet said. "I think that our first two lineups couldn't pull it together. There was no chemistry or flow, so we tried to do a different approach. We took some people out that were already starters. The chemistry was there but we just couldn't pull it together."
It was Warren who shifted the energy again in the third set with a kill and two aces consecutively to make the score 16-8. The Cowboys maximized that effort with an 8-0 run to finish the sweep. Senior libero Jaydyn Rayburn led this stretch with five consecutive aces, all to the left back zone.
"Even though we might be down and have a lot of negative energy on the court, we have to keep going either way," sophomore Emily Bonilla said. "If we give up, that's a loss for us, but we are still representing our school, team and coach."
As the halfway point of the season approaches, Bourgade Catholic has struggled to win a set since Sept. 12 and a match since Sept. 6. They have an opportunity to turn things around at their first tournament of the season.
"We need to have a clear mindset," Naki-Bajet said. "We need to bring some tenacity. We also need to just play and have fun. I think a lot of these girls think about the errors so much that they forget that volleyball is a sport that they love. They have to have fun while doing it."
The Golden Bears must rest for the Epic Tourneys Chandler Prep Volleyball Invite Friday and Saturday at the Sun Devil Fitness Complex in Tempe. The Cowboys will host the Wickenburg Wranglers on Tuesday at 6 p.m.